A Garden Party
04/09/2019
---
A group exhibition with Angélique Aubrit, Bianca Baldi, Ludovic Beillard, Delphine Deguislage, Hadassah Emmerich, Weixin Chong & Pauline Emond, Dimitri Fagbohoun, Juan Pablo Plazas, Glenn Sanders, VIAGER, Tatiana Wolska, Guy Wouete
Curated by Clovis XV, Komplot, mòsso, Rectangle, SUPERDEALS


Exhibition until 15 September everyday 2-6pm



EN : The title A Garden Party is reminiscent of the party scenes in chic gardens. The very idea of ​​the garden party is a story of the bourgeoisie who could afford to have a garden and eat outdoors… For whom nature was not just a working tool but could be a decoration. The garden of Château Nour that will welcome this exhibition inside and outside is quite the opposite, it is a meeting place for various communities.

FR : Le titre A Garden Party est évocateur de scènes de fête dans des jardins un peu chic. L'idée même de la fête dans le jardin relève d'une histoire de la bourgeoisie qui pouvait se permettre d'avoir un jardin et de manger en extérieur… Pour qui la nature n'était pas juste un outil de travail mais pouvait être un décor. Le jardin de Château Nour qui va accueillir cette exposition en intérieur et extérieur est tout le contraire, il est un lieu de rencontre pour différentes communautés.

NL : De titel A Garden Party doet denken aan feesttaferelen in chique tuinen. Het idee van het tuinfeest is een verhaal van de burgerij die het zich kon veroorloven om een ​​tuin te hebben en buiten te eten… Voor wie de natuur niet alleen een werktuig was, maar ook een decor. De tuin van Château Nour die deze tentoonstelling zowel binnen als buiten zal verwelkomen, is precies het tegenovergestelde, het is de plaats van ontmoeting van verschillende gemeenschappen.


---
New space : Chateau NOUR
23/04/2019
---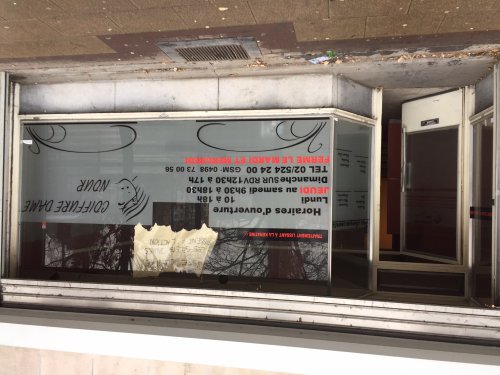 On 23 April, Komplot opened Chateau Nour, a new exhibition and residency space with Mosso, Clovis XV, SUPERDEALS and Rectangle.
---
13 Square Albert 1er 1070 Brussels
---
Notre objectif, avec l'ouverture d'un nouvel espace intérieur et extérieur, dans l'ancien salon de coiffure NOUR et jardin Albert, est de stimuler les collaborations entre Clovis XV, Komplot, Mosso, Rectangle, SUPER DEALS et d'autres associations, groupes et personnes. Sur la base d'un programme d'ateliers et résidences, nous créons un réseau dans lequel développement local et participation vont de pair avec des formes expérimentales de créativité.
——
Our goal, with the opening of a new interior and exterior space, in the former NOUR hair salon and Albert garden, is to stimulate collaborations between Clovis XV, Komplot, Mosso, Rectangle, SUPER DEALS and other associations, groups and people. On the basis of a program of workshops and residences, we create a network in which local development and participation go hand in hand with experimental forms of creativity.
————
Ons doel, met de opening van een nieuwe binnen- en buitenruimte, in de voormalige kapsalon NOUR en Albert tuin, is om samenwerkingen tussen Clovis XV, Komplot, Mosso, Rectangle, SUPER DEALS en andere verenigingen te stimuleren, groepen en mensen. Op basis van een programma van workshops en residenties creëren we een netwerk waarin lokale ontwikkeling en participatie hand in hand gaan met experimentele vormen van creativiteit.
---
---
ARCHIVES
30/11/-0001
---